For many, finding a well-paying job is more important than ever. With companies constantly displaying "hiring now" signs in their windows and on their websites, the job market is a much-discussed topic in today's culture. With many job seekers looking for remote work or a complete career change, finding the right fit can be a difficult task. However, with Macomb/St. Clair Michigan Works!, this task is much easier.
Provide resources to employers and job seekers, Macomb/St. Clair Michigan works! connects potential employees to over 2,000 local businesses, saving companies over $1 million in employment-related costs. With five career centers scattered throughout Macomb and St. Clair counties, Michigan Works! served over 3,200 job seekers in the region and offered over 900 workshops per year.
Although the center offers job training, resume writing resources, and career development for all ages, many generally think of Michigan Works! resources for newcomers to the job market. Job hunting is not a one-size-fits-all solution and is not suitable only for youth or young adults seeking a high school diploma or graduates fresh out of college. Michigan works! provides a full range of services, proving invaluable to all ages, including the elderly and those who have worked in their respective industries for decades already.
Teresa Brittentine, career planner for the Community Services Employment Program for Seniors (SCSEP), facilitates community service and workplace training program programming for older workers, authorized by the Older American Act.
"I help low-income people age 55 or older re-enter the workforce by providing workplace training opportunities in their community," she says.
By sponsoring career fairs and working closely with local colleges, libraries, chambers of commerce and the Workforce Development Board, Brittentine says Michigan Works! locations are pillars within their own individual communities.
At the height of the pandemic, it became clear that the services and resources she provides to the community were needed more than ever. Just like many in-person locations and workplaces closed due to safety concerns, many Michigan Works! resources have moved to virtual. The transition from face-to-face visits and in-office programming to Zoom virtual workshops and digital resources has not been an easy transition, especially among older generations, and many clients have struggled with technological barriers. Others have felt helpless trying to file unemployment claims after being laid off during the government shutdown.
"There was a lot of frustration, but we persevered," says Brittentine, of the staff who really went above and beyond to help customers. Thanks to the funding, they were able to provide laptops to those who don't have one and connect internet at low cost. Brittentine says it was tough, but it pushed some customers to catch up on technology and learn some very useful skills.
"I'm very proud of the team I have because we've actually helped a lot of people get their benefits when they were totally lost, during the shutdown," she says. "We have worked very hard to ensure that we are able to continue to serve our customers and provide what they need to get back to work."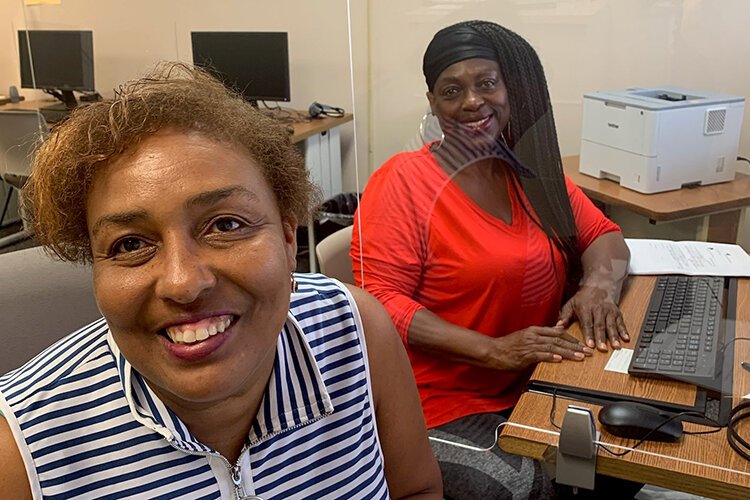 Mr Mason (left), 57, works as an activities assistant and says the Seniors Community Services Employment Program helps him stay active. S. Blanchette, 63, did not work outside the home before joining SCSEP and is working to build her computer and employability skills through the program.
Michigan works! also provides many resources for local businesses and companies looking to hire new employees and help their current employees advance in their respective fields.
Scott Bolt, Corporate Account Manager, works in the Port Huron office of Macomb/St. Clair Michigan Works!, works as a liaison between local businesses and job seekers in the area.
"The main program we offer to employers is the On-the-job training program", says Bolt. "An employer can in effect be reimbursed 50% of the wages of new hires for up to 320 hours. The job must pay at least $14 / hour to qualify for this program.
The federally funded grant program is for brand new hires in full-time positions and has certain eligibility requirements. Bolt says the program's incentives are attractive to many companies.
"It's a big selling point for employers because it takes some of that cost of hiring or risking a new person out of the employer," he says. "We can offset some of those costs for them, for the first two months, while they get employees up to speed and become marketable in the role."
Bolt says some of the lesser-known business services resources they offer include the on-site conference room, which can be used for interviews, hiring events or job fairs. They also help employers create and list job postings.
"We kind of work as an extension of the recruiting team and offer them as much assistance as possible with their workforce needs. We know that many employers are overwhelmed or simply don't have the time or resources to do it all.
In an ever-changing job market, Bolt hopes employers will continue to look within and use resources to help train and promote current employees and provide apprenticeships.
"Apprenticeships have really been our focus," says Bolt. "We're trying to get employers to recognize that they already have workers they trust and depend on, who may not have the skills right now, but let's develop those skills and bring those workers to the positions you need filled."
Going in-house to fill positions benefits both employers and employees, Bolt says.
"Job seekers and employees appreciate that their employer appreciates them and their contribution," he says. "It really seems to boost morale and investment on the employee side if they see an employer investing in them through training or apprenticeships."
Another trend Bolt observes is that employers are looking for applicants with difficult backgrounds, including misdemeanors or felonies. The Clean Slate Pilot Program assists employees who may have a criminal conviction on their public record that prevents them from advancing to the next level of employment. The program provides free delisting assistance for those who qualify, enabling career advancement and, in turn, enabling housing and other educational opportunities.
"Employers are opening their doors to people they might not have thought of before, whether they have difficult backgrounds or crimes or things like that," he says. "Some employers are more open to getting a little more creative and re-evaluating the way they do things."
Learn more about Michigan Works! and its opportunities, visit macomb-stclairworks.org.